When your home is your castle, the thought of moving can be heart breaking. But if it's the stairs that are presenting a problem, then a stairlift may be the answer to

regaining your independence

, and making your home fully accessible again.
National Stairlifts can
customise a safe, and comfortable home stairlift system
, that is affordable and easy for you to use.
We are a family-owned business, with years of experience in all types of stairlifts. Our team can custom design a solution to suit your physical requirements, your stairs, and your budget. Visit our showroom to view our range of stairlifts, alternatively we can bring our mobile van to you for a hassle free at home demonstration.
Our stairlifts meet Australian Standard 1735.7 and are design registered with Workplace Health and Safety Queensland.
National Stairlifts is proud to be a partner of Handicare, a market leader in the field of home care, with a reputation for the manufacture of innovative, quality stairlifts. National Stairlifts offer a range of Handicare stairlifts for both straight and curved staircases, for both indoor and outdoor applications.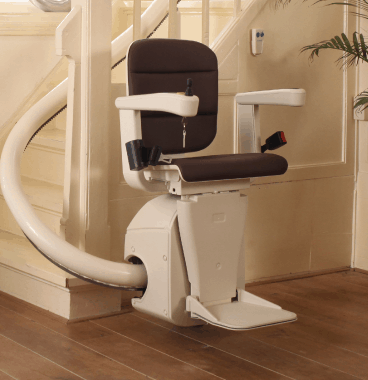 Indoor use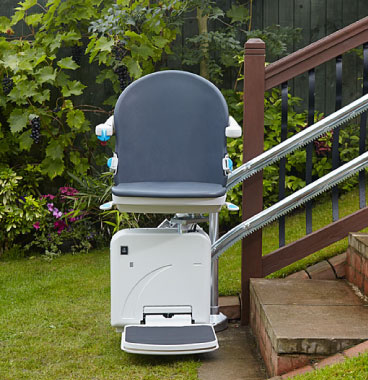 Outdoor use
A straight stairlift refers to a stairlift travelling in a straight line only, they cannot go around a bend. National Stairlifts offer a range of safe and reliable straight stairlift solutions to meet your needs.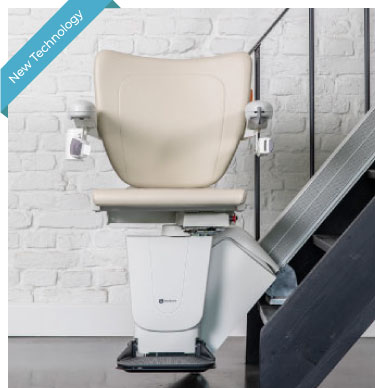 Indoor use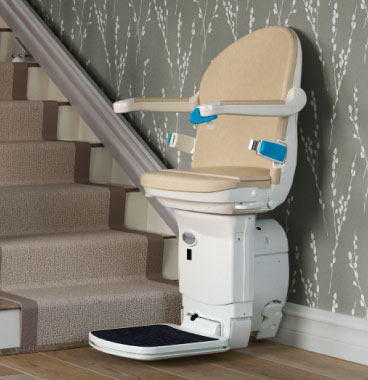 Indoor use
A stairlift built for you
Our stairlifts afford a variety of options with different levels of automation and features to meet your physical needs, personal preferences, and budget. Choose from a
range of options
to create a home stair lift system that is right for you and your home.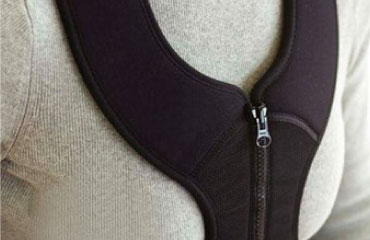 We offer a range of seat belts (clip, velcro and retractable), body harnesses, and foot restraints.
When you arrive at the top of the stairs you will need to swivel your seat around to exit onto the landing safely. If you choose the powered swivel option, the seat will automatically swivel when you reach the top of the stairs.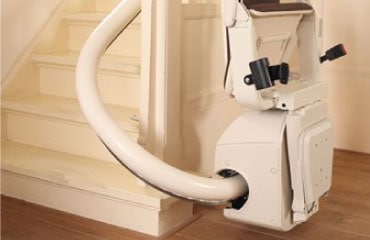 If you choose the powered footplate option, it will remove the need for you to bend down to fold or unfold the footplate.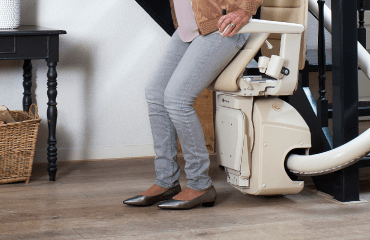 The active seat provides assistance for those users who would like some additional support when getting on or off the stairlift. It can also provide a greater sense of security when sitting down as the seat can be felt directly behind you.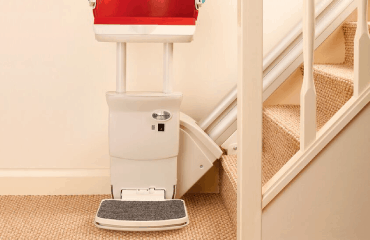 Users who have difficulty bending at the hip or knee joint may choose a 'Perch Seat' – this option reduces the angle of the sitting position and therefore can reduce some people's discomfort. We also provide options for children's seats.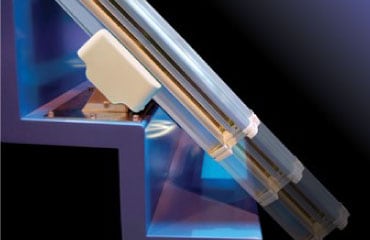 If there is a walkway at the top or bottom of the staircase, a slide track is useful to move the rail and the stairlift out of the way.
If there is a walkway at the bottom of the stairs, a hinged track will fold out of the way.
How do I choose the right stairlift?
To ensure that your
stairlift suits your needs,
one of our team can visit your home to assess your staircase and discuss your requirements. This short consultation is without any obligation, and will be conducted by one of our qualified installers.
Each stairlift is designed to suit your individual staircase.
Using our specialist PhotoSurvey software we take measurements of your staircase, and then create an accurate 3D model of your staircase – this software ensures the stairlift track is designed to perfectly fit your space. We also advise of any adjustments required to fit your stairlift, for example, moving a heater, and which side of the staircase would best suit your stairlift.
What are my stairlift options?
Stairlifts are either manufactured for straight or curved staircases, and for internal, and external applications. Each of these stairlifts provide a range of features and functionality, and depending on your needs and budget there are options to increase the automation of the lift to make it even easier to use.
Visit our showroom to try a Handicare stairlift today. Our staff will show you a range of affordable lifts with easy-to-use features to suit your needs.
NATIONAL STAIRLIFTS PTY LTD
Servicing Queensland, Northern NSW, 
and Victoria.
Head Office
15/40 Counihan Road,
"Rocks Riverside Industry Park",
Seventeen Mile Rocks, QLD
4073
ABN 88627357386
QBCC 15102469
QLD Electrical Licence  85362
NSW Electrical Licence  331996C
VIC Electrical Licence  28727
ACT Electrical Licence 20181244
NT Electrical Licence C3911
© Copyright National Stairlifts Pty Ltd